Axilla Deodorant Paste 75g by BLACK CHICKEN REMEDIES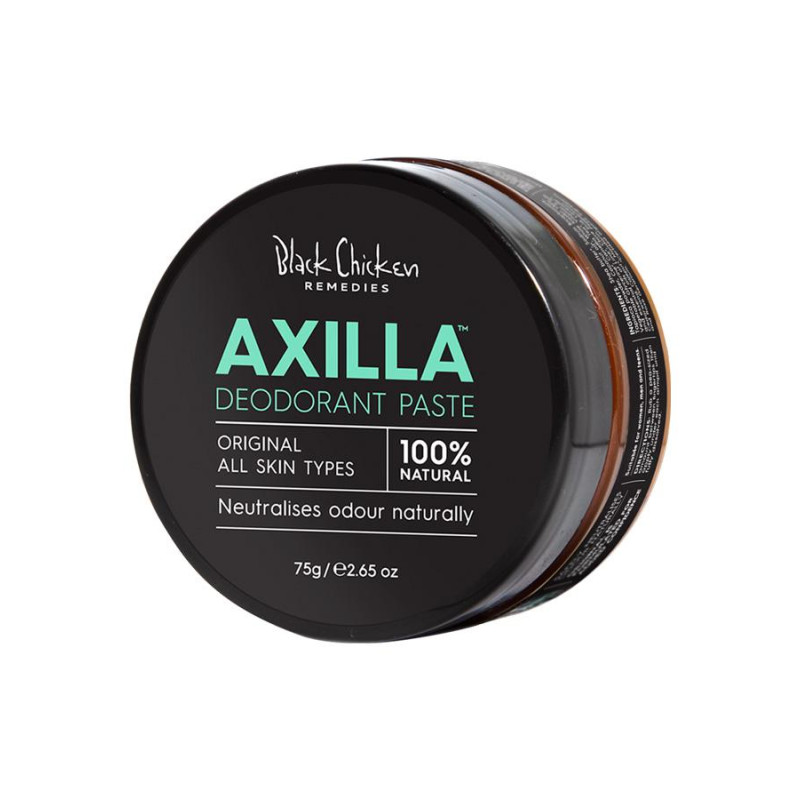 We tend to forget about our armpits and the hard work they do. These patches of skin, home to hundreds of sweat glands help control our body temperate and expel toxins through perspiration. So, the least we can do is give them a helping hand (or finger) and rub some natural Axilla Deodorant Paste into them.
Our unique blend of natural and organic ingredients target and effectively neutralise odour without harmful chemicals or sweat blockers. This means your body can continue to do what it does naturally without smelling funky.
Our awesome deodorant paste:
• Contains only natural and certified organic ingredients

• Does not contain harmful Aluminium Salts or compounds
• Is completely invisible upon application
• Does not contain synthetic fragrances
• Contains pure essential oils and botanical extracts
• Does not contain alcohol, Parabens, Propylene Glycol, Triclosans or other harmful chemicals
• Vegan friendly and not tested on animals
• Made with love in Australia
Ingredients: Vitellaria paradoxa (Shea Butter*), Cocos Nucifera (Coconut oil*), Camellia Oleifera seed oil (Camellia Tea oil*), Sodium Bicarbonate, Maranta Arundinacea (Arrowroot), Pink Kaolin Clay, Mixed Tocopherols – from non-GMO soy sources (Vitamin E), Vegetable Glycerin* – not derived from palm oil, Mentha Piperita (Peppermint essential oil*), Melaleuca leucadendra (Cajaput essential oil*), Citrus Reticulata (Mandarin essential oil*), Syzygium Aromaticum (Clove essential oil), Pelargonium Roseum (Rose Geranium essential oil), Citrus aurantifolia (Lime essential oil*), Lavandula Angustifolia (Lavender*) and Cedrus Atlantica (Cedarwood essential oil*).
*Certified Organic ingredients.