Paleo's Breakfast Adventure 300g by FOOD TO NOURISH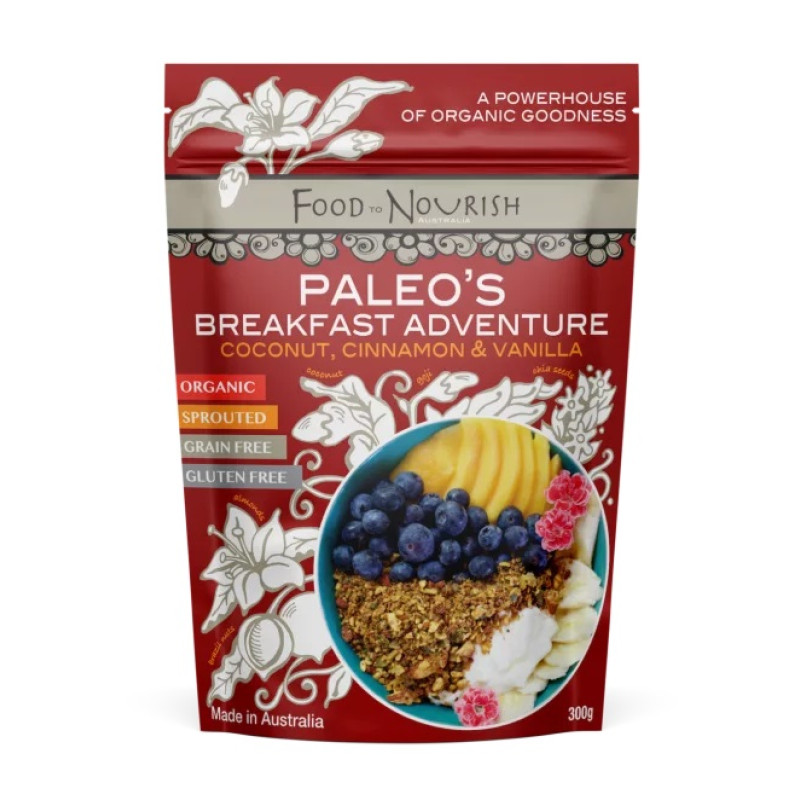 Gluten & Dairy Free
Sugar Free
Grain Free
100% Certified Organic and Raw
Vanilla and Cinnamon Flavour
A breakfast cereal that isn't packed full of sugar, grains or dried fruit. This contains a delicious blend of sprouted organic almonds, sprouted organic brazil nuts, sprouted organic cashew nuts, organic pepitas and organic chia seeds.
We've not added any dried fruit, honey, maple syrup or coconut sugar to this mix. These sweeteners are for occasional use only and shouldn't be consumed for breakfast every single morning. Instead we've added some vanilla bean powder and organic cinnamon powder which gives this a lovely warm flavour.
Serve this with fresh fruit and coconut yoghurt or pop some into your smoothie to give it that nutrient boost!
Ingredients: Organic shredded coconut [25%], organic goji berries, organic sprouted cashew nuts, organic pepitas, organic sprouted almonds, organic sprouted brazil nuts, organic chia seeds, organic cinnamon powder [3%] and vanilla bean powder [1%].
ALLERGEN ADVICE:
CONTAINS: ALMONDS, BRAZIL NUTS & CASHEWS May contain: other tree nuts and peanuts from processing line