Thriving Protein - Smooth Vanilla 450g by NUTRA ORGANICS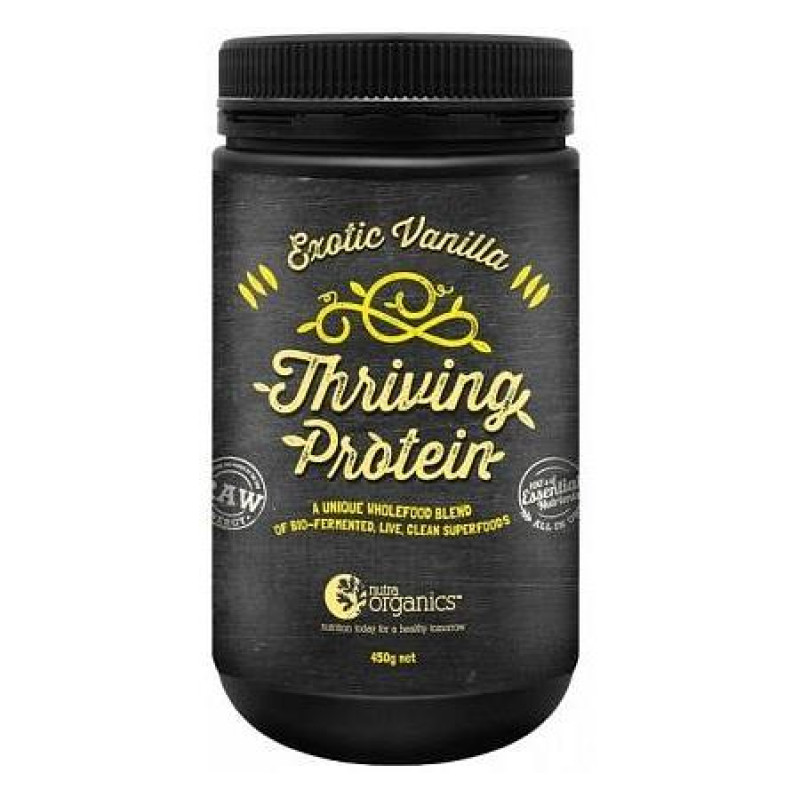 At Nutra Organics we believe every person has the right to THRIVE! Enter Thriving Protein - a wholefood powder built from organic, quality, nutritious, vegan ingredients that promotes growth & energy.
Made from wholefoods, Essential amino acids, Bio-fermented pre and probiotics, Sprouted brown rice and pea protein and easily digestible and gut friendly.
Ingredients: Certified Organic: Organic Sprouted & Bio Fermented Live Protein Blend 5555mg: Organic Sprouted & Fermented Golden Pea Protein* (82% Pre-Digested Cultured Protein Isolate), Organic Whole Brown Rice Protein Isolate*.
Organic EFA (essential fatty acids) & Fibre Blend 3260mg: Organic Whole Brown Rice Milk Powder*, Organic Coconut Crunch*, Flax Seed Powder*, Chia Seed powder, Apple Pectin.
Plant Based Sweetener & Extracts 470mg: Natural Vanilla Extract, Thaumatin (Sweetener).
Organic Bio-Fermented Pro-Biotic Blend 330mg: Fermented Sprout Blend (Mung Bean Sprout*, Brown Rice Sprout*, Red Lentil Sprout*, Chick Pea Sprout*, Linseed/Flax Sprout*, Alfalfa Seed Sprout*, Millet Sprout*, Quinoa Sprout*, Chia Sprout*) - Molasses added for the fermentation process.
Organic Wholefood Herbal Extract Blend 330mg: Organic Curry*, Guava, Lemon, Amla, Holy Basil extracts.
Vitamin & Essential Mineral Blend 55mg: Organic Natural Sea Mineral Complex (Calcium, Magnesium, 74 Trace Minerals), High Vitamin D Mushroom Powder.