Grapefruit & Palmarosa Multi Purpose Cleaner 500ml by TRI NATURE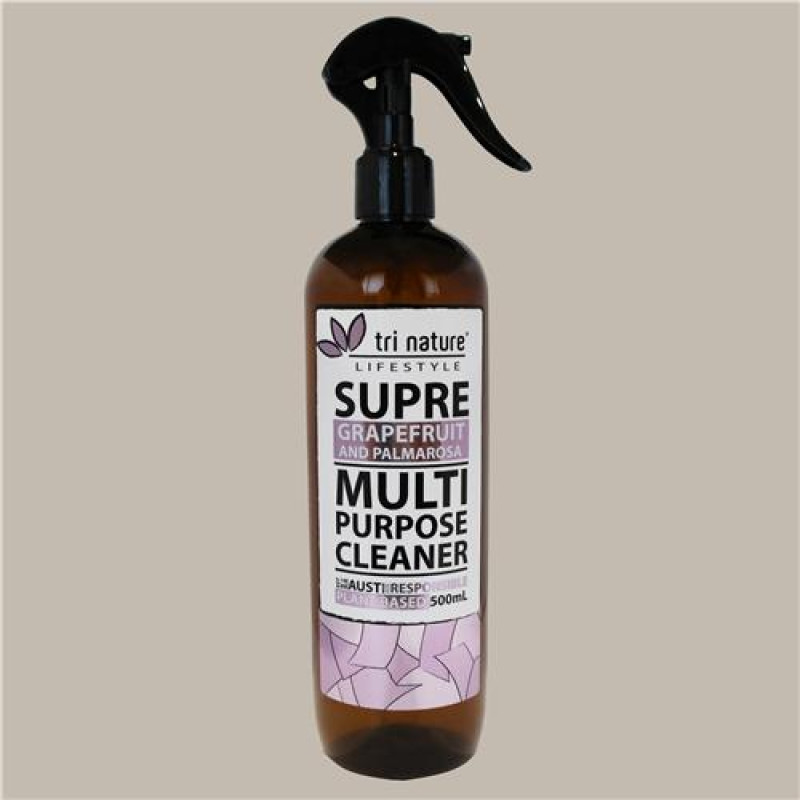 A gentle, yet powerful cleaning solution for wiping away greasy contaminations quickly and easily. Offers superior cleaning performance without the harsh odours or toxic residues of ordinary household cleaners.
Ideal for a wide range of greasy and difficult cleaning jobs.
Ideal for use on a variety of sound hard surfaces such as tiles, bench tops, laminate, paintwork, and outdoor areas.
Highly efficient - no hard rubbing or scrubbing for most soils.
Fragranced with essential oils of Grapefruit and Palmarosa or Eucalyptus.
Suitable for use in grey water and septic systems.

Made from plant based materials.
Packaged in recyclable plastic.
Contains NO: harsh chemical ingredients, caustic alkalis, petroleum hydrocarbons, SLS, toxic colours or fragrances, parabens, or formaldehyde.
Ingredients: Water (Aqua), Fatty Alcohol Ethoxylates, Quaternary Ammonium Surfactant, Methyl Methoxy Butanol, Lauryl Alcohol Ethoxylates, Grapefruit Essential Oil, Palmarosa Essential Oil, Fragrance, Tetrasodium Dicarboxymethyl Glutamate, Citric Acid, Methylchloroisothiazolinone, Methylisothiazolinone.