Peppermint Organic Hair Creme 177ml by DR BRONNER'S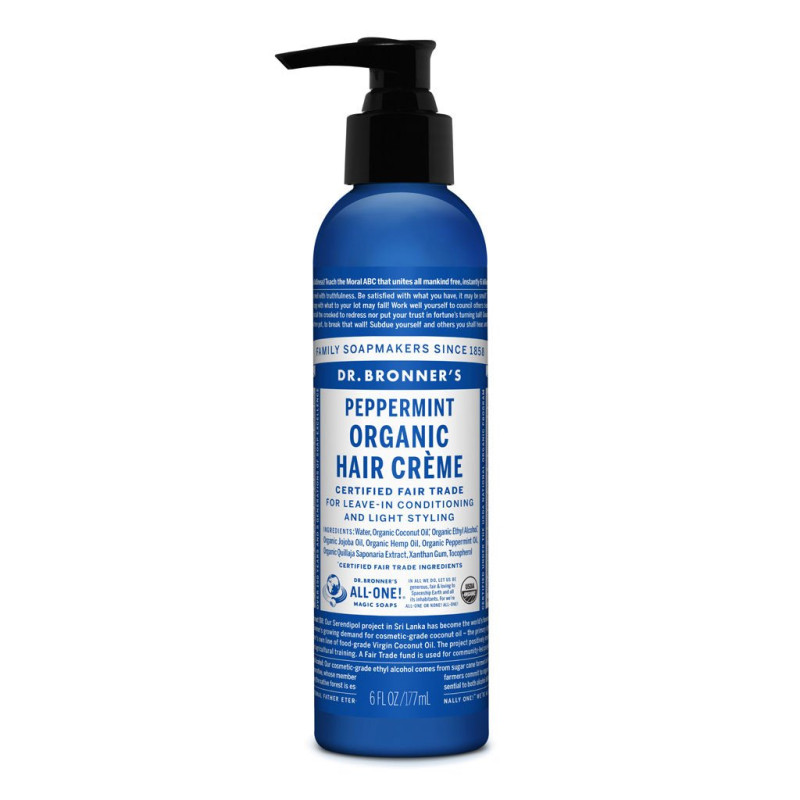 Certified organic to USDA National Organic Program standards, Dr. Bronner's Fair Trade & Organic Peppermint Hair Crème provides light styling hold while making hair silky-soft without any synthetic ingredients. Organic coconut oil makes hair shiny and luxurious, organic jojoba oil imparts excellent manageability and feel, and organic hemp oil moisturizes and softens hair. Use after shampooing for additional conditioning and styling.
Suggested uses:

After showering, add styling and smoothness to your hair with one of our Organic Hair Crèmes. Start with a small amount of Hair Crème in your hand and comb gently through hair – with a focus on the ends. Apply as much as you need to make your hair moisturized-smooth, with a lightly-styled look.
Ingredients: Water, Organic Coconut Oil*, Organic Ethyl Alcohol*, Organic Jojoba Oil, Organic Avocado Oil, Organic Hemp Oil, Organic Peppermint Oil, Organic Quillaja Saponaria Extract, Xanthan Gum, Tocopherol.
*CERTIFIED FAIR TRADE INGREDIENTS