Blend 11 Digestive Mix 800g by GOODMIX SUPERFOODS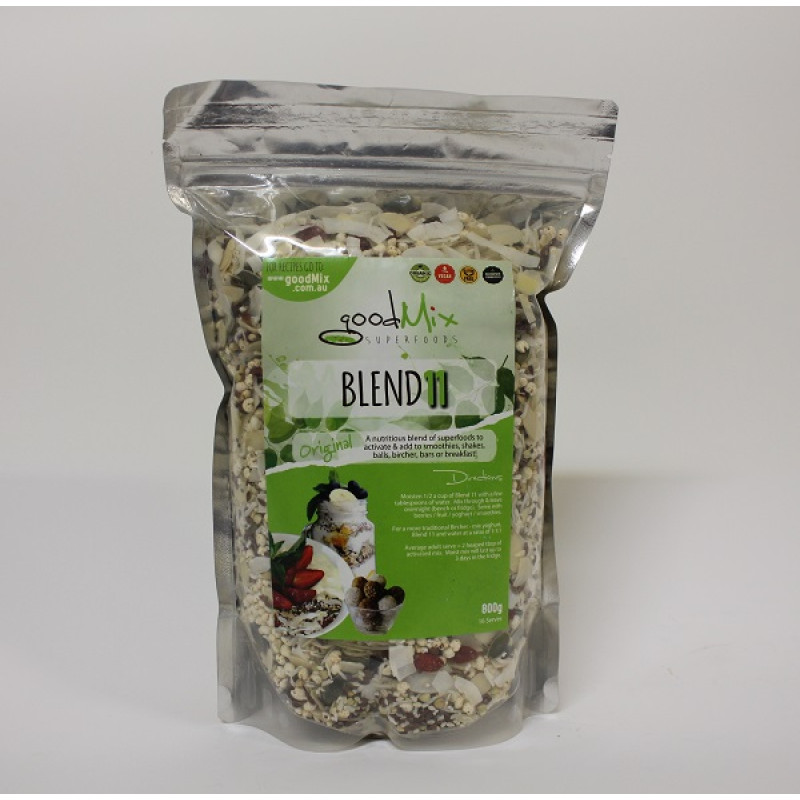 Want the best poos ever?
Balance gut flora, optimise digestion & boost metabolism. Protein, enzymes, omega 3's, antioxidants & fibre never tasted better. Activate, eat, wait.
This mix has been designed to supply maximum nutrition as well as fantastic taste, appearance & texture. Every ingredient is chosen for a reason.
Can be eaten with yoghurt, coconut yoghurt, smoothies, protein shakes, chopped fruit, porridge / other breakfast foods…or made into slices / balls / muesli bars for lunch boxes or snacks. Just remember to store somewhere cool & airtight, and soak overnight before eating for maximum nutritional value!
How to activate your Blend 11
Directions:
Moisten 1/2 a cup of goodMix with a few tablespoons of water
Mix well & leave overnight (bench or fridge) the seeds will absorb all the water
Serve with berries / fruit / smoothie / yoghurt (or try some goodMix recipes!)
Moist / activated mix will last up to 3 days in the fridge.
Average adult serve = two heaped tablespoons of activated mix.
Ingredients: Chia Seeds*, Almonds, Pepitas*, Coconut*, Buckwheat*, Flaxseed*, Sesame Seeds*, Goji Berries*, Raw Cacao Nibs*, Puffed Amaranth*, Puffed Millet*.
* = certified organic ingredient.