Sprouted Brown Rice Protein Vanilla 1kg by EDEN HEALTH FOODS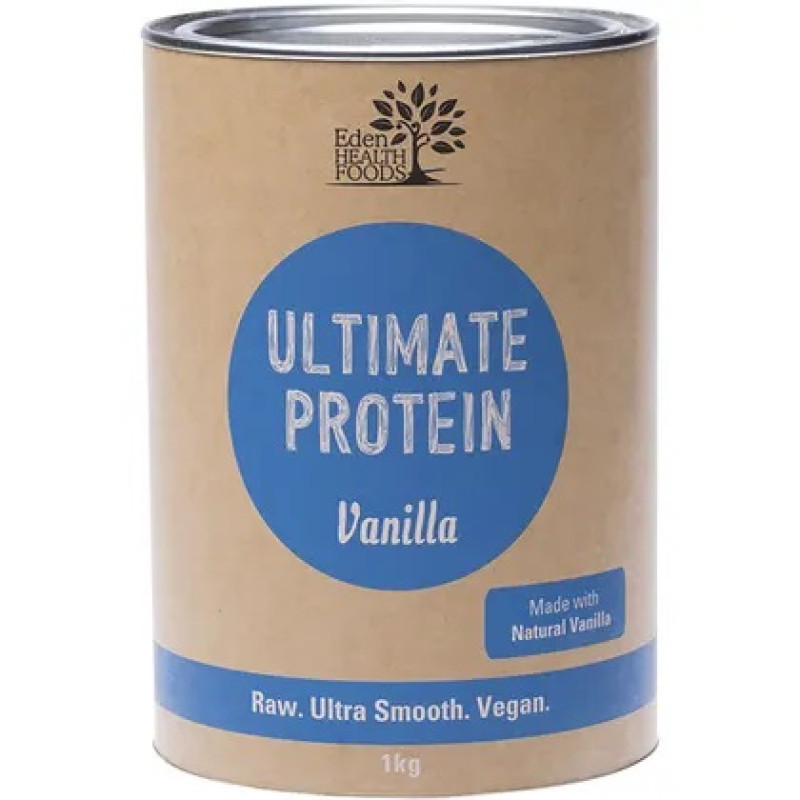 Eden Healthfoods Ultimate Protein uses a traditional bio-fermentation process of sprouting certified organic brown rice protein and adding enzymes which break down the carbohydrate component, producing the Ultimate raw protein supplement, which is high in protein (80%), alkalising and easy to digest.
This unique formula re-innovates the way we perceive protein supplementation, by bringing things back to basics – the way nature intended. By using premium organic whole food ingredients, we've created one of the world's cleanest, healthiest and best-tasting plant-based proteins to suit all your protein supplement needs.
Perfect Amino Acid Profile – considered a complete protein with a balanced amino acid profile - it has a 96% correlation with whey (without the toxic overload)
98.2% Assimilation – almost all of the protein is absorbed and utilised by your body with little going to waste
80% Digestible Protein – one of the highest protein percentages of any raw vegan protein powder on the market
Raw – highly digestible protein content is intact and not denatured or destroyed in any way
Ultra-fine Micronised Powder – gives a non-gritty, smooth creamy texture (naturally) without the use of multiple processed thickening gums which can irritate. Allows for easy mix-ability and delicious taste
Certified Organic Ingredients – no chemicals, pesticides, herbicides or nasties. No artificial flavours, colours, preservatives and definitely non-GMO (or GMO derived)
Sprouted & Bio-fermented – increased bioavailability, digestibility and produces a perfectly balanced amino acid profile through a bio-fermentation process
Safe for the Whole Family – organic whole food ingredients makes this whole food supplement safe for the whole family to use
Gluten Free – but jam packed full of a wide variety of easily absorbed vitamins, minerals, antioxidants, phytonutrients and trace elements
Allergen Free – extremely gently on your digestive system, which means you won't experience any bloating
Low Fat – mixes easily with a full creamy consistency but ultra low in fat
Natural Vanilla – we use the highest quality vanilla we could find. Cheaper versions can cause allergic reactions and digestive disturbance. Vanilla tastes so good that customers have commented saying "it tastes like ice-cream"
What else makes sprouted and bio-fermented brown rice protein so good?:

Contains fibre allowing the protein to move through your colon
Rapid absorption of leucine (compared to WPI) which slows the degradation of muscle tissue
Contains more arginine than any other protein available (x4 than whey) which enhances blood flow to your muscles for better delivery of nutrients - means bigger workouts and better recovery
Rich in glutamine to enhance protein synthesis and boost growth hormone levels
Vegan and alkalising forming
WHY CHOOSE ULTIMATE PROTEIN?
We carefully select and research every ingredient that we use in Ultimate Protein, from beginning to end, to ensure that we're creating the best product possible.
Unique organic ultra-fine micronised protein powder (1000 mesh), containing the most nutritious components and gives a non-gritty texture, naturally
A simple ingredient list ensures integrity of all ingredients and keeps things clean and nutrient-dense
Whole food supplements are better understood by the body and therefore get used more readily, without causing stress or creating long term imbalances
Natural processing methods using a natural enzyme, eliminates the use of chemicals, acid hydrolysis or hexane extraction
INGREDIENTS
Premium Grade Bio-fermented Raw Sprouted Wholegrain Brown Rice Protein*, Natural Vanilla, Non-GMO Apple Pectin, Stevia*.
*Certified Organic
Ultimate Protein not only uses certified organic brown rice but is one of the only protein powders on the market today to use certified organic stevia. Stevia that is not organic use chemicals in there processing.