Coconut Vinegar Balsamic 250ml by NIULIFE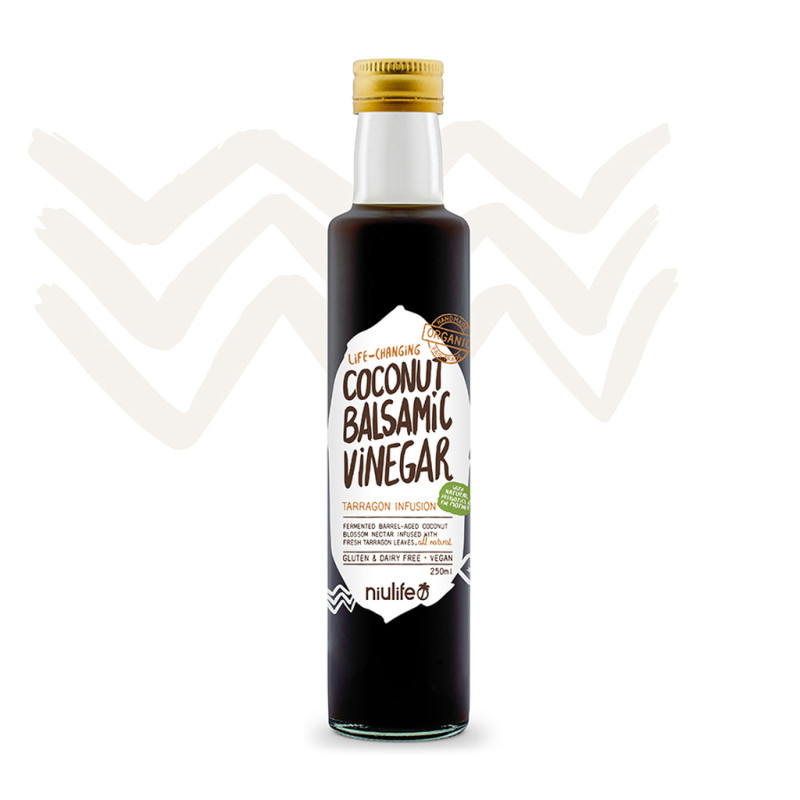 Fermented barrel-aged coconut blossom nectar infused with fresh Tarragon leaves.
Our gourmet coconut vinegar is handmade from small batches of freshly harvested organic coconut blossom nectar that has been naturally fermented with Tarragon leaves.
It has a deep tangy flavour making it ideal for pairing with strawberries, pears, ricotta, feta & salad.
Delicious with seafood, steak or chicken. Try adding a splash to salad dressing, dips & marinades or add 2 tablespoons to sparkling water as a healthy tonic.
Unrefined
All natural
Fair Trade
Certified Organic
Preservative & Gluten Free
Good for gut health
Vegan
No added cane sugar
Low GI
100% of profits from all Niulife products go towards running our DME® VillageForLife™ empowerment programs. These equip small communities living in remote villages with everything they need to set up their own independent, sustainable & vibrant local economy. Thanks to you, they now have the power to enjoy a richer, fairer quality of life.
INGREDIENTS: Fermented barrel-aged organic coconut vinegar, coconut blossom nectar & Tarragon leaves.
ALLERGEN ADVICE: Made in a facility free of nuts, soy, gluten & dairy.