Honey Shadow Organic Hair Colour 100g by DESERT SHADOW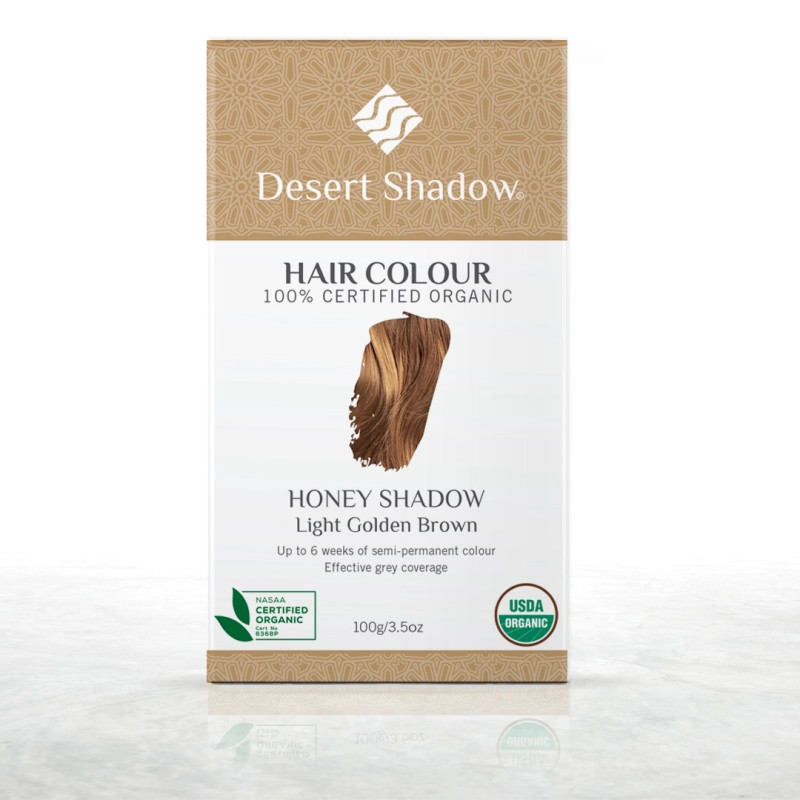 Light golden brown
Sweet like honey. Honey Shadow will give a sweet & golden light brown colour on grey, light and dark blonde hair. It will also add a golden glow to light brown and medium brown hair. Can be used to highlight greys in med/dark hair with golden brown shimmer. This product is ideal for those with lighter hair colours.
*this colour will not lighten the hair as it contains no bleach or peroxide
Colour & treatment in one
Our hair colour products also act as a treatment, helping to repair dry and damaged hair, leaving your hair soft and shiny.
This 100% Certified Organic formula is ideal for those who have scalp issues, sensitive skin and allergies to chemical hair dyes. It is also a wonderful and safe alternative for pregnant mums who would like to continue colouring during pregnancy* as they contain nothing but certified organic goodness.
Me Time required
Organic hair colours need time to deposit colour on your hair. Please allow the following amount of time for your colour treatment.
Non Grey coverage: 1 hr +
Grey coverage: 3 hrs
Amount of product required
Short hair & root touch ups - 1/2 pack
Medium hair - 1 pack
Long hair - 1 to 1.5 packs
Super long hair - 2 to 3 packs
Thick hair - will need to add an extra 1/4 pack for short hair and 1/2 (short to medium) to 3/4 pack (for long hair
*Please note - repeated use will see your colour become richer and in some cases darker. Once you achieve the colour shade you like on the lengths, simply apply to the roots only and do a full application every 4th or 5th time to boost the colour at the ends. This will save time and product and ensure you have an even colour all over.
Ingredients: Cassia auriculata, Indigofera tinctoria, Lawsonia inermis, embilica oficialis, Aloe barbadensis.