Reusable Squeeze Pouch (Green Twinpack) by LITTLE MASHIES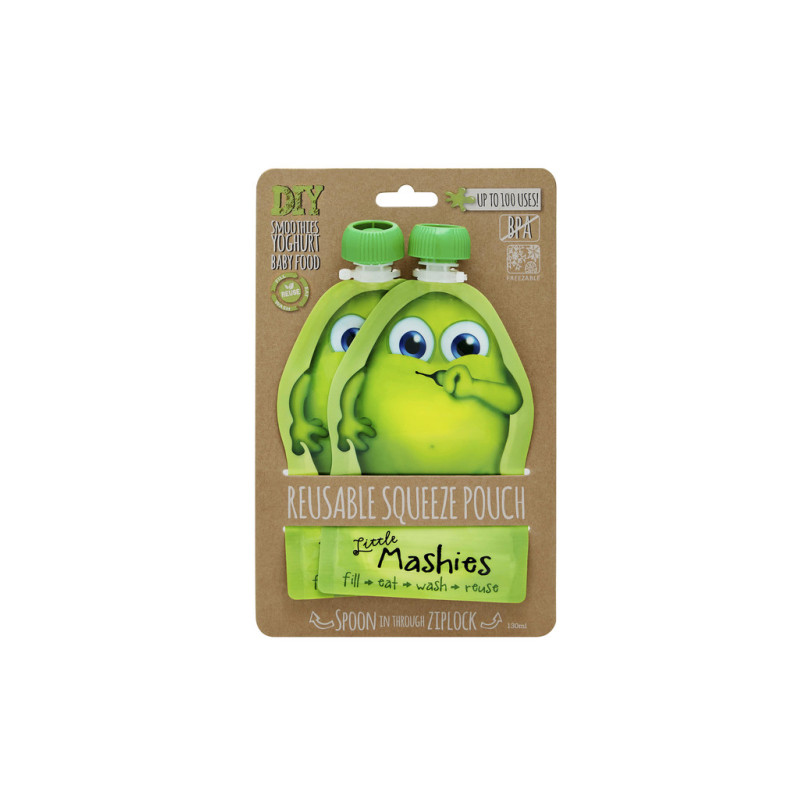 Use Little Mashies food pouches to store your baby food or to send yoghurt and other squeezable snacks (custard, mousse or smoothies) to school.
Little Mashies are the leading brand of reusable baby food pouches. They are made from the highest quality BPA free components and are fitted with our famous anti-leak ziplock. They are super tough and easy to use!
Features of Little Mashies reusable food pouches include:
Super strong design for use over and over again. You can feel the high quality of our pouches
Easy shape to clean. Being curved means there are no corners or gussets for food to get stuck in
Slightly see through background plus parents can see all the way through the pouch via the 11cm wide bottom ziplock
Cute, cuddly design which makes meal time fun
Wide double ziplock along the bottom of the pouch for easy filling, 11cm and with anti-leak technology
Soft mouldable plastic that is BPA Free, Phthalate Free, PVC Free & Lead Free
Large cap to reduce the risk of choking (plus all store bought pouch caps and pouch spoons fit Little Mashies)
Wide bottom opening to make drying the pouch a breeze
140mls (best filled to 110mls)
Not recommended for microwave use
Dishwasher safe and Freezable.